We work on all kinds of hybrids.
Boulder Hybrid Conversions was formed in 2010 to provide and install Plug-In conversions (upgrades) to Prius owners in the Boulder, Colorado area. Shortly after we formed customers started asking us to help with their Hybrid maintenance and service requirements. We recently rebranded our company to "Boulder Hybrids" since we now do much more than just conversions. We have the same diagnostic equipment as the dealer, years of experience, and the friendly atmosphere of an old fashioned neighborhood garage.
Integrity is everything.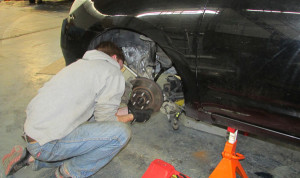 Our business is based on honesty and integrity. We keep our prices fair by using recycled parts when applicable. Sorry we don't have a fancy waiting lounge or cappuccino machine.  (Our "official" waiting lounge is the Laughing Goat Coffee House at the front of our building). Boulder Hybrids is locally owned by Hybrid drivers/enthusiasts.  When the shop is closed our staff is out running, cycling, hiking, climbing, skiing–basically enjoying everything Boulder & Colorado has to offer.